SKF offers new Lincoln continuous hydraulic lubrication pump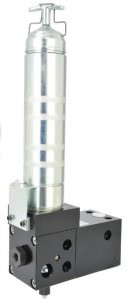 SKF today announced the introduction of the Lincoln Model HTL 201US continuous hydraulic lubrication pump. Developed to minimize friction and wear on small and medium series hydraulic hammers from 650 pounds (295 kg), the pump is suitable for additional hydraulic attachments including claws, shears and mini excavators.
The compact HTL 201US pump can be mounted directly on the hammer or other attachment for continuous lubrication while the device is operating. It remains with the tool requiring lubrication, even if the carrier unit is exchanged. The reliable pump uses standard 14.5-ounce (410 gram) grease or paste cartridges up to NLGI Class 2 or can be bulk filled with its built-in refilling adapter. For convenience, the HTL 201US features a low-level indicator that alerts the operator when lubricant needs to be refilled.
The unit functions in operating temperatures from -13 to +140 degrees Fahrenheit (-25 to +60 degrees Celsius). Depending on hydraulic pressure and throttle setting, the pump has a variable lubricant output of up to 0.41 cubic inches per minute (6.7 cubic centimeters per minute).
Company info
40 Executive Court
Toronto, ON
CA, M1S 4N4

Website:
skf.com
Phone number:
416.299.1220
Read more