DuraHook is the New Solution To Permanent Pothole Patching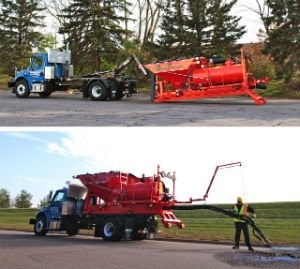 DuraPatcher, has introduced the DuraHook for maximum utilization of truck chassis for contractors and public works departments. The roll-off DuraHook allows owners to change out tools in minutes. The DuraHook features the proven method of spray-injection patching used by thousands of DuraPatcher owners around the world. In national tests, spray-injection patching has ranked highest for cost effectiveness versus other methods including hot-mix patching.
DuraHook permanently patches a pothole in four easy steps through one nozzle: 1. Compressed air cleans the pothole of loose debris; 2. An emulsion is sprayed into the hole as a binder; 3. Emulsion coated aggregate is sprayed with sufficient force to compact it and fill the hole and: 4. Dry aggregate is sprayed over the patch to allow traffic to resume immediately.
Because DuraHook has its own 74 hp John Deere diesel engine, it operates self-sufficiently without power from the truck. The unit carries six yards of aggregate and 250 gallons of emulsion. An onboard compressor provides the method of moving aggregate and emulsion with few moving parts. The same machine is available in truck-mounted and trailer-mounted configurations requiring one or two man operation.
Related Articles
Searching for the best-performing excavator? Your search ends here. We tested the Volvo EC350E and EC380E against a leading competitor in three different tests: trenching, truck loading and lifting capacity at reach. The results show a 20% difference in cost-per-ton, a 15% difference in tons-per-hour and a 12% difference in both operating costs and lifting capacity. See the results and put an end to your search for the best excavator.