Big Improvements for Wacker Neuson's largest wheeled excavator – Model EW 100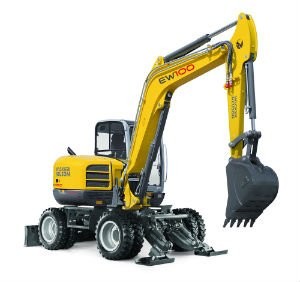 Wacker Neuson's next generation replacement for the 9503 wheeled excavator, the EW 100, is taking to the streets with a more powerful engine, significantly reduced turning radius, increased digging depth and simplified operation. Wheeled excavators save contractors and municipalities money with unparalleled mobility and with the extensive improvements on this versatile 10-tonne model, its role as the ultimate urban excavator will be unchallenged.
Wacker Neuson's EW 100 is powered by a 117-hp Perkins 854 Turbo Engine, and this 4-cylinder, 3.4 liter powerhouse delivers more horsepower and torque than the previous engine. The Perkins 854 Tier 4 interim engine incorporates cutting edge technology including a common rail fuel injection system, charge-air cooler and diesel particulate filter (DPF). The new Perkins engine delivers 15% more power and 17% lower fuel consumption compared to its predecessor.
It's easy to get to and from the job site with driving speeds up to 25 mph, and once the EW 100 is on the job, it can easily maneuver in tight spaces. The EW 100 features a new All Wheel Steer system that reduces the turning radius by five feet compared to its predecessor. With an impressive turning radius of only 13 feet, it is easy to maneuver in confined areas, and strengthens the EW 100s position as the ultimate urban excavator.
The new EW 100 can dig deeper and reach farther than its predecessor, improving overall productivity. The upgrade includes a new boom that allows this workhorse to dig over 14 feet deep and has a 24-foot reach. With its power, reach and mobility, this excavator is the perfect solution for roadside digging and demolition in urban settings.
Simple operation was a key design requirement for the new EW 100. It starts with a single driving pedal and easy transitions between the different operating modes and speed settings. Operators will also appreciate the new easy to use dial control system. Using this automotive-style feature, operators can easily select and save the auxiliary hydraulic flow settings depending on the attachment, eliminating the need for manual adjustments. The EW 100 also delivers improved operator comfort with air conditioning, automatic climate control, new joysticks and a simplified layout making it easier to operate for longer periods of time.
Company info
Related products