Iowa Mold Tooling Co. Inc. (IMT) 40 tm articulating crane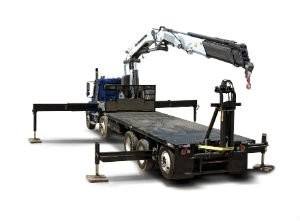 The 40 tm articulating crane from IMT offers excellent lift and reach capabilities, key safety features, a superior lift-to-weight ratio and minimized space requirements. The 40/275 crane provides a maximum lifting capacity of 19,026 pounds at 14 feet 5 inches, and can be equipped with up to eight hydraulic extensions for a maximum horizontal reach of 69 feet 11 inches. Minimized dimensions and lower weight allow for additional truck configuration possibilities and increased payload.
The 40/275 crane features a Dual Power Plus Link arm system (DL), which provides precise and regular movements in the entire working area while offering the best lifting capacities. Another feature is overbending, which offers greater flexibility when working through narrow passages and under overhead obstructions, the ability to lift maximum loads in all boom positions, and lower total height when the crane is stowed. Additional features include an RCL (rated capacity limiter) 5300 safety system, a radio remote control and continuous rotation.
IMT offers a complete lineup of articulating cranes ranging from the 2.5 tm model to the 80 tm model.
Company info
Related products