Montabert launches Micro CPA line of drilling attachments in North America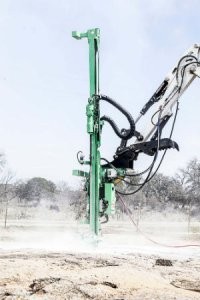 Designed for use on a variety of carriers — including compact excavators, backhoe loaders and skid-steer loaders — the Montabert Micro CPA drilling attachment provides unmatched versatility and performance. These drilling attachments are the first of their kind in North America, but have been used all over the world in pipeline trenching, utility work, tiebacks, reinforcement and long-reach applications.
The Micro CPA H22/H25 drilling attachments, along with the Micro CPA R25/R32, are single-pass drills with a feed rotation of 45 degrees from vertical. They create holes with diameters measuring 1 to 1-3/4 inches and 1-1/4 to 3 inches, respectively, with maximum hole lengths of 20 feet and 30 feet. Both models can be mounted to carriers in the 5- to 10-ton range.
The Micro CPA 360 R25/R32 drilling attachments are equipped with 360-degree rotation, allowing the operator to adjust from vertical, to overhead, to horizontal drilling with ease. The R25/R32 provides a 1-3/4 to 3 inch hole diameter, with maximum hole lengths of 30 feet and can be mounted to carriers in the 8- to 15-ton range.
All Micro CPA drilling attachments use a high performance Montabert Drifter and feature radio remote control capabilities, allowing the drilling attachment to be operated from outside the cab of the carrier and eliminating potential carrier connection issues. An optional dust collector, with high suction capacity or a water injection system, is available to reduce the dust escape.
In addition to requiring less initial investment than their conventional drilling counterparts, the Micro CPA drilling attachments offer the versatility of being quickly exchanged for other attachments within minutes and are more easily transportable between jobsites. Backed by a vast parts, service and support system, this new line of drilling attachments will provide operators a reliable and productive drilling alternative.