Geith heavy-duty grapples handle a variety of materials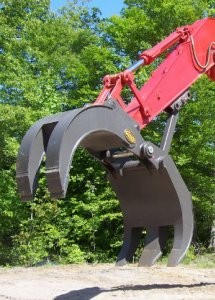 Designed for use with excavators weighing between 8,000 and 115,000 pounds, Geith heavy-duty grapples are ideal for demolition, scrap handling and land clearing projects — handling heavy objects such as broken pavement, oversized branches and large boulders with ease.
Available in a variety of sizes, Geith heavy-duty grapples weigh between 783 and 5,368 pounds, with the largest model boasting a width of 130 inches. Standard design features — including abrasion-resistant, high-tensile strength steel; boxed tines with replaceable wear plates; replaceable bearings in the main hinges; and pin-protecting seals — provide Geith heavy-duty grapples with extended service life protection. Geith heavy-duty grapples are compatible with both pin-on and quick coupler attachment mounting systems.