It tilts, it rotates, and it opens up new possibilities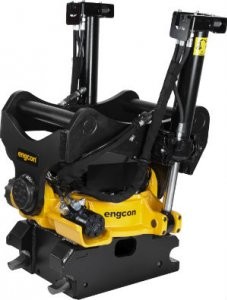 It was almost 25 years ago that engcon made its first tiltrotator—a type of wrist that makes it possible to both tilt and rotate the bucket on an excavator. Today, engcon is a world leader in the development of tiltrotators that give customers significantly more flexible and productive machines.
"We have now set our sights on the North American market and are building a broader network of dealers and service partners," says Stig Engström, CEO and founder of engcon.
The tiltrotator has become standard in Scandinavia and is showing strong growth in Europe. It is now time for American contractors to discover the many advantages of the tiltrotator. Several satisfied customers are already in love with the tiltrotator's capabilities. Like ADK Electric in Oregon, which builds cell towers.
"I can't imagine working with a straight bucket on this type of job. The tiltrotator can reach the back of the circular footing, and goes all the way around without having to move the excavator," says machine operator Grant Kangas. In the state of Washington, you will find Land Lindberg—another ambassador for the engcon tiltrotator. He runs Lindberg Pipe & Grade Inc., which has equipped four of its excavators with the tiltrotator.
"The engcon tiltrotator opened up a whole new world. The tiltrotator improves our productivity on the construction sites, enabling us to handle the jobs more efficiently than we could without the tiltrotator," he says.
By increasing its network of dealers and service partners, engcon aims to have more contractors test the tiltrotator and discover its advantages. Some of the benefits include less machine repositioning which reduces fuel consumption, greater precision, reduced machine wear and a safer worksite.