Volvo L250H wheel loader makes light of heavy jobs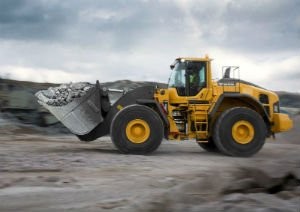 The new Tier 4 Final/Stage IV-compliant L250H wheel loader from Volvo Construction Equipment tackles heavy tasks with superior performance, heightened safety and up to 18% better fuel economy with OptiShift.
The Volvo L250H wheel loader is a high production machine designed to deliver excellent productivity and profitability in applications including quarry, mining and heavy infrastructure. Operators will experience short cycle times, high breakout force and excellent controllability with this heavy-duty machine. Specifically in North America, the wheel loader is perfectly matched to on-highway trucks, and the L250H will load a 25-ton triaxle on-highway truck in two passes — two full buckets for one full truck.
Featuring advanced technology and built on decades of experience, the L250H's powerful Volvo Tier 4 Final/Stage IV engine provides high performance and low fuel consumption. During the fully automated regeneration process, particulate matter collected in the DPF is burnt off without interrupting performance or productivity for effortlessly clean operation.
Fuel efficiency is enhanced by Volvo's OptiShift technology, which combines the company's patented Reverse By Braking (RBB) technology and a torque converter with lock-up to eliminate power losses and reduce fuel consumption by up to 18%. Automatic Power Shift (APS) and Fully Automatic Power Shift (FAPS) further ensure minimal fuel consumption and fast cycle times, shifting the machine gears in line with engine and travel speed for optimal operation. Meanwhile Volvo's unique eco pedal encourages the operator to ease off the throttle, therefore lowering fuel consumption, by applying a mechanical push-back force when the throttle is used excessively and the engine rpm is about to exceed the economic operating range. Intelligent load-sensing hydraulics supply power to the hydraulic functions only when required for smooth, fuel-efficient operation, as well as excellent control over the load and attachment.
Company info
Related products