John Deere Introduces Final Tier 4 Utility Wheel Loaders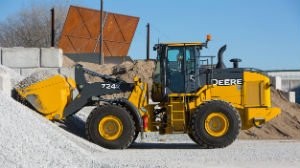 John Deere's K-Series 4WD Wheel Loaders now feature three models that meet Final Tier 4 emissions standards. The engine update also allowed John Deere to offer several machine enhancements to the 624K, 644K*, and 724K for added durability, productivity, increased uptime and lower daily operating costs.
"Our goal when updating the K-Series engines to Final Tier 4 was to integrate the engine with minimal machine impact and to maintain the performance features our customers have come to know and expect from John Deere wheel loaders," said Chris Cline, product marketing manager for utility wheel loaders, John Deere Construction & Forestry. "The engine update also allowed our engineers to implement several customer-inspired solutions, including axle improvements and several feature upgrades to better meet the needs of today's wheel loader operator."
The implementation of a John Deere PowerTech™ EPA Final Tier 4/EU Stage IV engine delivers impressive torque to help maintain good boom and bucket speed in and out of the pile for heaped loads, even in wet or hard-packed material. The new wheel loader models weigh the same as their Interim Tier 4 predecessors with no increase in machine dimensions. In addition, there is no impact on visibility going from an Interim Tier 4 to Final Tier 4 engine.
The K-Series boasts several axle improvements for increased durability in demanding conditions, including standard axle cooling and filtration, along with brake retractors and adjustors on the Teammate V™ axles. Standard axle cooling and filtration keeps axle oil and its components cooler in hard breaking and significant load-and carry applications.
For added protection, axle oil is filtered by continuously cleaning wear particle and debris out of the oil. Together, this system provides increased engine reliability, durability and longevity. Finally, brake reactors and automatic self-adjustors were added to eliminate brake drag and to maintain a constant brake running clearance with better compliance and less heat.
The K-Series 4WD utility models feature a standard five-speed lockup torque converter (LUTC) transmission that improves productivity and fuel efficiency. This feature connects the entire drivetrain directly to the engine to provide full engine power during transport, ramp climbing and downhill conditions, eliminating wasted energy and excess fluid consumption by 5-to-8 percent depending on the application.
John Deere understands operator comfort is critical to productivity, which is why the new K-Series models come standard with several features to make the operator's job easier, including a Level 1 Sound Suppression Package and quiet cab with air conditioning.
The Level 1 Sound Suppression reduces engine noise heard by the operator, which decreases fatigue and increases productivity on jobsites in areas that have noise restrictions. Quiet cab provides ready to work climate control for maximum comfort in all seasons, and also keeps windows clear of ice and humidity to keep the operator up and running.
To eliminate downtime, the K-Series models are equipped with remote battery terminals for faster and easier jump-starting. The engine compartment can remain closed and locked to charge the batteries, which reduces the threat of vandalism. These machines also feature an optional right-side platform and steps for easy access to the right side of the machine.
All John Deere wheel loaders come standard with John Deere WorkSight, the most comprehensive, easy-to-use suite of technology available for increasing uptime and productivity while lowering operating costs.