Dynapac CA1300 and CA1500 complete Atlas Copco Dynapac CA soil roller line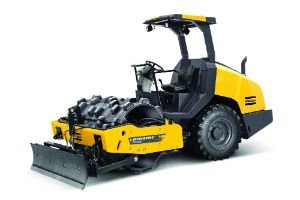 Atlas Copco has now completed its Dynapac range of single drum soil rollers with the introduction of its CA1300 and CA1500 models. With the same innovative features as the larger models in the CA soil roller range, the versatile CA1300 and CA1500 feature fuel-efficient interim Tier 4/Tier 4 Final engines, improved serviceability, built-in safety functions and increased operator comfort. Time- and money-saving features include optimized amplitude for superior compaction performance and Active Bouncing Control (ABC) that prevents damage to the machine and over-compaction.
Lower cost per compacted cubic yard
With static linear loads ranging from 70 to 365 pounds per inch, the CA rollers are ideal for compacting a range of materials, from sand and gravel to rock fill plus silt and clay. Amplitude of 0.071 to 0.079 inches for the Dynapac CA3500 and CA4000 models allows rock fill to be compacted in 4-foot to 5-foot deep layers. The better depth effect results in higher volume capacity and fewer passes to reach compaction specifications, saving fuel and time and reducing cost per compacted cubic yard. Environmental impact is also lower. The "Silent Weights" eccentric feature enhances compaction performance even further and is standard on Dynapac CA4000 through CA6500 models.
Lower fuel consumption and life-cycle costs
The new CA rollers are available with fuel-efficient interim Tier 4 engines. (The CA1300 is offered with a 75 hp Tier 4 Final engine.) The ECO fuel-saving system minimizes fuel consumption and CO2 emissions by giving the roller only the amount of power that is necessary to operate at any given time. This, together with higher compaction parameters and other improvements, has resulted in a drastic reduction in fuel consumption compared to the previous generation.
Rollers in the CA range can be equipped with a Sustainability Package featuring the ECO rpm management system, biodegradable fill-for-life hydraulic fluid, a 50-hour service kit, electrical engine block heater and working lights with LED lamps.
The thick drum shell on Dynapac CA rollers extends running time before a drum change is required. A scraper blade with an innovative divided design keeps the drum free of material during operation and can be replaced quickly and at low cost should it become necessary. For PD applications a heavy duty scraper is available as an option.
Bouncing guard prevents component damage
Active Bouncing Control (ABC), a feature unique to Dynapac CA Rollers, prevents damage and prolongs roller life by eliminating drum double jump, or over-compacting – an action that can destroy components in the machine. An optional speed limiter is available that prevents compacting at too high a speed, saving money in the long term. The speedometer is always standard to ensure the right compaction speed. Electronic drive control together with automatic vibration control gives the operator full control.
Productive compaction operations
The advanced control systems on the CA rollers increase productivity by enabling the user to control the entire rolling process in three clear steps. Preparation – planning the task with the Dynapac CompBase software; Performance – performing the work using the Compaction Meter and analyzer on the roller; and Protocol – analyzing the results using the Dynapac Compaction Analyzer (DCA).
Dynapac's CostCtrl software on the Web and an extended warranty for CA rollers enable customers to gain full control over life-cycle costs and maximize machine availability. The company's international service network offers full support and assistance with all parts and service needs.