Atlas Copco Dynapac F1000T is Tier 4 Final compliant and now with Carlson EZ IV 1019 screed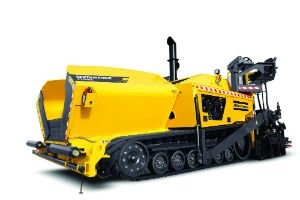 Atlas Copco's Dynapac F1000T highway-class paver is now Tier 4 Final compliant, featuring a Cummins 225 hp Tier 4 Final engine that uses Diesel Oxidation Catalyst (DOC) and Selective Catalyst Reduction (SCR) technology. The Tier 4 Final engine reduces 90 percent of particulate matter and 90 percent of Nitrous Oxide Emission (NOx) compared to a Tier 3 engine. The F1000T also features a Carlson EZ IV 1019 screed, which offers a minimum paving width of 8 feet and a maximum paving width of 25 feet for versatile paving capability.
Dynapac adjusted the paver duty cycle so that regeneration of the DPF system occurs without disturbing paving operations under most conditions. A high-pressure fuel injection system reduces fuel consumption up to 5 percent over earlier engines.
The new cross-flow cooling system features a hydraulically driven, temperature-dependent cooling fan that reduces the overall noise level. The system exceeds performance requirements to deliver a 120-degree Fahrenheit capability. The cooling system has been designed to work on Tier 4 Final engines. The fan also has a reverse feature to help clear accumulated debris in the cooling system.
Dynapac's new auger-conveyor, feed-control system ensures continuous flow of material for quality paving. The feed controller uses four independent, ultrasonic sensors to maintain the head of material precisely.
Visibility has improved with the paver's platform height of 78 inches and a 63-inch deck height – currently the lowest deck height in the industry. The low height allows full visibility to all working areas around the paver. This low center of gravity provides balance between the paver and screed, delivering accurate edge geometry and the best mat quality.
The F1000T has a transport width of 10 feet, transport height of 106 inches and a transport length of 21 feet. Working width is 26 feet with a minimum working width of 8 feet.
Operation controls have been upgraded with dual swing-out operator panels that are interactive. The panels feature a functional switch layout and toggle switches to improve efficiency and productivity for the operator.
The F1000T now offers a Carlson EZ IV 1019 screed that allows a minimum paving width of 8 feet and a maximum paving width of 26 feet. (The EZ IV 1019 screed is also available on the F1000W wheeled paver.)
At 34 kW, the hydraulically driven generator delivers a constant 60 Hz frequency regardless of the engine speed or load. This unique capability allows full screed heating at idle, which saves fuel during daily warm up. The generator will heat screed extensions, heat end-gates and provide night lighting if needed.
The Dynapac F1000T paver offers easy maintenance with the use of standardized components and common parts. Manual override valves, relays and illuminated DIN connectors are provided. For easy identification, the pavers are designed with group placement of components and individually marked hoses and wires.
The F1000T is also engineered with a multi-function display based on calibration so there is no need for a laptop. The direct-flow air cleaner is positioned for optimum airflow and serviceability. The DPF is also ideally positioned so that it can easily be removed for regular maintenance once every 2,000 hours.
Related Articles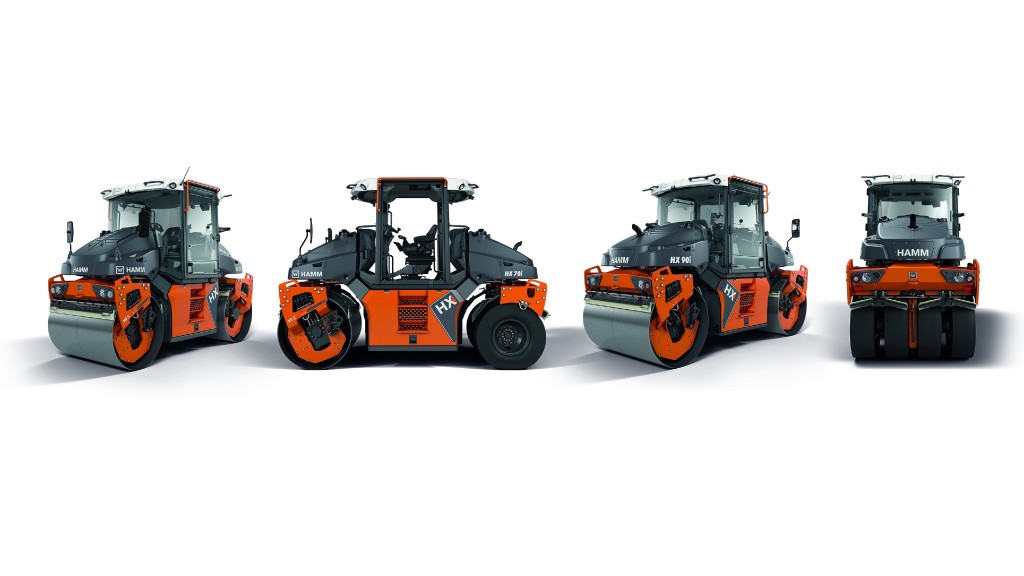 Hamm pivot-steered tandem roller series features Smart Compact digital support