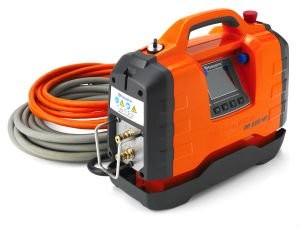 The Husqvarna PP 220 is an electric power unit for the Husqvarna WS 220 wall sawing system. This watercooled power pack weighs only 22 lbs (10 kg) and contains all electronics and software in a rugged, shockproof, water-protected housing. Husqvarna K 6500 handheld power cutter, K 6500 Ring cutter and Husqvarna DM 650 drill system can also be powered by the PP 220.
Benefits:
• A powerful high frequency power pack providing fast and accurate adjustment for each operating condition.
• Low weight of 22 lbs (10 kg) and a compact design make it easy to transport.
• Automatic detection and setup of connected equipment and power source makes handling easy.
• Double connections make it possible to connect PP 220 to both WS 220 and DM 650 or K 6500 simultaneously.
• Only one cable and one hose from converter to machine, which simplifies set-up and transport.
• The wireless remote control provides extensive information to the operator (power level, operating time, service period, errors, etc.), to ensure total control of the sawing process and excellent freedom of movement at the workplace.