ASTEC Voyager 120 leads with ability to run RAP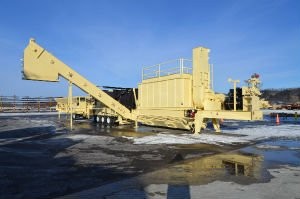 ASTEC, Inc., has introduced the 120 MTPH Voyager plant. The Voyager 120 offers a compact, highly portable design. Unique for a plant in this class is the ability to run up to 30% RAP. In addition, it is backed by the best service support in the industry.
The ASTEC Voyager 120 is built around a counter flow drum featuring ASTEC v-fights. The v-flights provide greater uniformity of the aggregate veil during the drying process, which results in better heat transfer, a reduction of fuel use and increased productivity.
To enhance portability, a hydraulically driven swing out drag and batcher can be set and ready to go in about 10 minutes. Other features include a reverse pulse baghouse, a controls cab with fully automated PLC controls, gravity take-up with direct drive, air ride suspension and up to five (5) cold feed bins and two (2) RAP bins.
Astec Executive Vice President Steve Claude says, "ASTEC is excited about the opportunities for the Voyager 120. Initial feedback from the industry has been extremely positive. Several orders for this plant have already been booked with the first production model set to ship immediately."