Hyundai Construction Equipment Launches New Tier 4 Final R55-9A and R55W-9A Excavators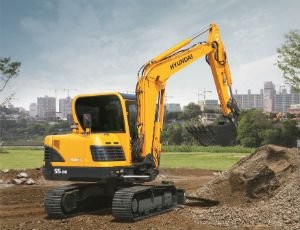 Hyundai Construction Equipment Americas, Inc., has announced the addition of the new R55-9A and R55W-9A mini excavators to their 9A series product line. These two new machines will provide operators with enhanced features and benefits compared to prior models including a certified Tier 4 Final engine upgrade, improved hydraulics, increased operator comfort and added durability. The R55/55W-9A models are nimble machines providing plenty of power to get the job done and are ideal for rental, light construction, utility and landscape applications.
The R55-9A has an operating weight of 12,460 lbs (5,650 kg) and is powered by a reliable 65.1 HP (48.5 kW) Tier 4 Final Yanmar 4TNV98C engine. The R55W-9A has an operating weight of 12,240 lbs (5,550 kg) and is powered by a 65.1 HP (48.5 kW) Tier 4 Final, Yanmar 4TNV98 engine. The R55-9A boasts a dig depth of 12'6" (3,820 mm) and the R55W-9A has a dig depth of 11'6" (3,500 mm). Both machines feature a bucket digging force of 8,490 lbf (37.7 kN) and bucket capacity of .24 cubic yards (.18 m3). A dozer blade comes standard for light grading, backfilling and for stability while excavating.
Hyundai's R55-9A is a track model with standard steel tracks and optional rubber tracks. The R55W-9A is a wheeled model allowing for greater mobility.
R55-9A
Operating Weight lb (kg): 12,460 (5,650)
Bucket Breakout Force lbf, SAE(kN): 8,490 (37.7)
Maximum Dig-Depth ft (mm):12'6" (3,820)
Engine HP (kW): 65.1 (48.5)
Bucket Size (cubic yards) .09-.24
R55W-9A
Operating Weight lb (kg): 12,240 (5,550)
Bucket Breakout Force lbf, SAE(kN): 8,490 (37.7)
Maximum Dig-Depth ft (mm):11'6" (3,500)
Engine HP (kW): 65.1 (48.5)
Bucket Size (cubic yards): .09-.24
To achieve optimum precision, Hyundai redesigned the R55/55W-9A's hydraulic system to provide the operator with super fine touch and controllability. Both models have an advanced hydraulic system including an arm flow summation system, boom holding system and a swing parking brake for smooth operation. Improved pump flow control minimizes fuel consumption and improved spool valves are engineered to provide more precise flow to each function with less effort. Enhanced hydraulic valves, precision-designed variable volume piston pumps, fine-touch pilot controls and enhanced travel functions make for smooth and easy operation. Boom-down flow regeneration and control valve technology are newly improved. Other valuable features include a hydraulic damper in the travel pedal and a hydraulically lubricated swing reducer with a leak-free grease chamber.
The R55/55W-9A excavators have a spacious cabin that was built for maximum comfort. An ergonomically designed suspension seat and adjustable arm rests help to minimize operator fatigue. Control levers are easily accessible and an instrument display is provided to keep the operator informed of pertinent machine information. Large upper roof glass provides additional visibility and a roller shade is provided to reduce glare and sunlight. An advanced audio system with AM/FM stereo, USB player and remotely located control is perfect for listening to music. A hands-free cell phone function is also available for safe and convenient phone use. Ergonomically designed joysticks are provided to reduce operator fatigue during the work day and multiple storage compartments are available for additional convenience.
An advanced LCD display allows the operator to select personal machine preferences and monitor crucial machine date including engine rpm, engine oil temperature, water temperature and information for all electronic devices. Button selections are provided for auto idle mode, max power mode and travel speed. A security feature is also provided to prevent the machine from starting without a proper password.
Structure strength has been improved on the R55/55W-9A excavators. The cabin structure has been fitted with stronger but slimmer tubing for more safety and improved visibility. Low-stress, high strength steel is integrally welded to form a stronger, more durable upper and lower frame. Structural integrity was tested using the Finite Elements Method (FEM) analysis and long-term durability tests.
Hyundai's R55/55W-9A excavators were built for added durability. Both models are equipped with counterweight rear guards to protect the engine hood. A boom cylinder cover provides added protection from the toughest of working conditions. Additionally, long life hydraulic filters, hydraulic oil, shims and bushings are provided, which help to extend service intervals, minimize downtime and reduce operating costs over time.