Updated Millenium 5 Loader Scale packs new data options into more compact design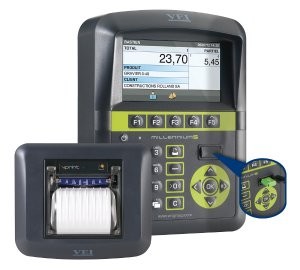 The latest update to one of the industry's most popular entry-level loader scales offers more data management capabilities while taking less space in the loader cab.
VEI loader scales, represented in North America by RMT Equipment, has introduced the new Millennium 5 model. The case has been totally redesigned to offer more of VEI's advanced features while retaining the simplicity, economy and compact size of previous Millennium versions.
The overall look of the Millennium 5 now resembles VEI's advanced Helper X model, including VEI's new high-definition color displays. The HD screen provides automatic brightness control and high visibility in any light conditions, with a more compact, easy-to-read layout of its load data.
Operator-friendly Millennium 5
The Millennium 5 system has been reduced in overall size without compromising visibility or usability for the operator. An articulated bracket lets operators simply swivel the display into the most comfortable position for viewing.
A redesigned keypad is built around the Millennium's familiar 4-button operator control with new "bumpy" buttons to give operators a better feel for the console, even when wearing gloves. It also adds numeric buttons and a row of function keys to operate the Millennium 5's greatly increased load data capabilities.
New Data Management Options
Through its standard USB data transfer port, the Millennium 5 can now be pre-loaded with basic load management details including up to 30 product names and 10 operator IDs, plus names and addresses for key customers. Operators and managers can then update the data, as needed, using the new keypad functions. Once the data is loaded, the operator uses the same simple controls as previous models.
Improved rough terrain performance
VEI's latest weighing technology includes faster microprocessors and advanced algorithms for greater precision, especially on rough terrain. USB data transfer is included as standard for daily, weekly or monthly exports of all logged loading data to an MS Excel file or similar spreadsheet application.
Versatile add-ons and upgrades
The companion VPrint thermal printer is faster and smaller than previous models. It can be attached beneath the display monitor or mounted separately, as required to suit the layout of the equipment's cab.
For customers who find they need expanded capabilities as their business grows or for special projects or to meet specific contract requirements, their Millennium 5 unit can be upgraded to equal Helper X capabilities with a simple firmware upgrade available from their RMT dealers.