McLaughlin now offers core drill attachment for its vacuum excavators Mini Core Drill attachment available in 6-, 8- and 10-inch sizes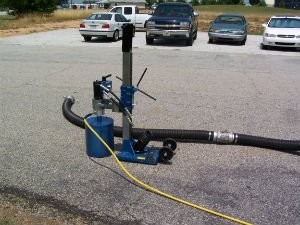 McLaughlin has designed a core drill attachment for use with its 500-, 800- and 1,200-gallon (1892.7, 3028.3 and 4542.5 L) vacuum excavators. The optional core drill provides utility contractors the ability to use vacuum excavation technology in locating existing underground utilities beneath hard surfaces such as asphalt and concrete. Less equipment and less setup makes the job more efficient for contractors, while minimally impacting the surrounding area.
The McLaughlin Mini Core Drill is capable of cutting holes at 6-, 8- and 10-inch diameters (15.2 to 25.4 cm). The drill cuts a uniform hole into pavement or asphalt, minimally impacting the surface structure. Once the vacuum excavation process has been completed and utility located, backfill material is used for reinstatement, the fill material is compacted, and the core is grouted back in place, leaving the road surface with minimal disruption.
"Potholing has gained rapid acceptance as an economical, surgical and safe method for exposing utilities. It is a minimally invasive and ideal technology for use in congested urban areas," said Jeff Wage, vice president for McLaughlin Group. "The time a contractor takes to effectively locate underground lines will save him time and the expense of fines and repair costs. The Mini Core Drill in combination with the vacuum excavator provides the ability for vacuum excavator technology to be used where there are surface improvements."
The McLaughlin Mini Core Drill features an integrated cutting tool available in 6, 8 or 10 inches. A patented vacuum suction base uses a sealing gasket between the core drill base and the pavement surface. The vacuum pressure keeps the base securely in place and eliminates the need to drill bolts and pins into the pavement used with conventional designs.
The vacuum excavator's hydraulic pump powers the mini core drill, removing the need for a separate power source. The jib hoist ­— available with manual or electric option — easily moves the core drill to and from the trailer to the ground.
The McLaughlin Mini Core Drill is available only on new models of the following vacuum excavators: V500LE-HD, V500HD, V800HD and V1200/V1200HD.