Self-Propelled Wireless Units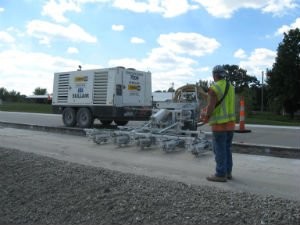 Minnich's Patent-Pending Wireless Technology Revolutionizes Drilling, Increases Safety.
Field tested, and contractor approved, Minnich Manufacturing has introduced wireless remote control technology to increase efficiency and safety for concrete dowel-pin drilling applications.
Unique to Minnich products, the patent-pending wireless remote control technology improves conditions on the jobsite by allowing the drill operator to have an improved vantage point for more accurate operation. By removing the operator from the drilling unit, the wireless remote control allows workers to avoid harmful dust and debris. Furthermore, the operator also appreciates a broader viewpoint for avoiding obstacles, equipment, and other workers on the job site, and thus minimizing risk on site.
"Minnich's self-propelled wireless units were simply designed with efficiency and safety in mind," explains Todd Jurjevic, Sales and Marketing Director for Minnich Manufacturing. "We have completely eliminated some serious job site hazards by incorporating this feature into our self-propelled drills."
Minnich's self-propelled drill units not only feature the groundbreaking wireless remote control technology, but continue to carry through a number of tried and true features in the new models like power steering and brakes for optimum control, the ability to drill both horizontally and vertically for increased versatility, completely adjustable drill height, depth, and centers for accurate drilling, and the power to tow a portable air compressor for quick and efficient transport. Another key feature unique to Minnich Manufacturing is the crab-steering function, which allows an operator to drive the drill down the slab to the next set of holes without raising the bed, keeping the unit flush to the slab throughout the drilling process.
The wireless remote is programmed with a unique radio ID and each receiver only responds to a single corresponding radio ID, allowing several remotes to function flawlessly in close proximity for large-scale drilling projects. Alternatively, in areas that are sensitive to signal transmission, like airports, the operator can connect a cable to the remote and drill to operate completely without broadcasting signals.
"We're already seeing that this technology is making a positive impression with contractors," says Jurjevic. "Crews are working more efficiently, drilling more accurate holes thanks to the improved vantage point, and the wireless remote control keeps crews safer by removing them from the action."
Available in three, four, and five gang models, Minnich offers a solution powerful enough to handle any application:
· A-3SCW: pneumatic, three-drill unit, 2,860 lb. operating weight
· A-4SCW: pneumatic, four-drill unit, 3,260 lb. operating weight
. A-5SCW: pneumatic, five-drill unit, 3,460 lb. operating weight