A Blend of Portability, Versatility, and Efficiency: Minnich Manufacturing's A-1 Utility Drill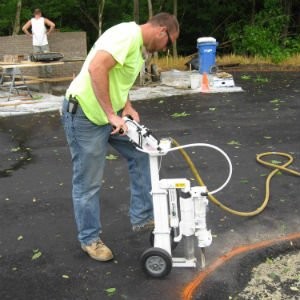 The Minnich Manufacturing A-1 Utility Drill is ideal for concrete drilling applications thanks to a variety of important cost-saving features. Small-scale and large-scale utility contractors alike appreciate the lightweight design for easy portability on the job site. These factors, coupled with the versatility to drill both vertically and horizontally make this an essential machine for concrete drilling applications.
"Having the ability to drill horizontally and vertically with one machine is a huge cost-saving feature for contractors," explains Todd Jurjevic, Sales & Marketing Director for Minnich Manufacturing. "These units are also very easy to adjust, which helps save time on site."
The A-1 utility drill is available in two models - the A-1-24 UTL and the A-1-30 UTL. Both models are powerful and compact, making them the perfect solution for concrete drilling in confined spaces. Special application and pattern kits are also available from Minnich depending on the specific job.
The A-1-24 UTL has an operating weight of 75 pounds (34 kg), and can reach a drill depth of 7" (17.7 cm), with a cutout width of 24" (60.9 cm). The A-1-30 UTL features an operating weight of 80 pounds (36 kg), and can reach a drill depth of 10" (25.4 cm) with a cutout width of 30" (76.2 cm). Both units require 32 standard cubic feet per minute (SCFM). Both units in the A-1 UTL line are available with an optional dust collection system to minimize flying debris on the jobsite.