A-1 Series: An Ergonomic, Safe, and Economical Solution For Dowel Pin Drilling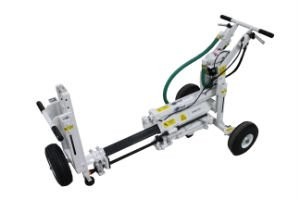 Minnich A-1 Series drills offer proven ergonomic benefits for dowel pin drilling applications, reducing operator fatigue and increasing productivity on the job site. Available in two models of single on-grade drilling units, the A-1 Series is quickly making a name for itself among road contractors.
Thanks to a number of important ergonomic benefits like the reliable, flat-proof tires for increased maneuverability, adjustable handles for operator comfort, easy-to-use controls, and minimal vibrations to reduce operator fatigue, the A-1 Series drills are engineered with a focus on safety and efficiency. The operator can also appreciate a conveniently placed foothold directly under the handle for increased leverage when drilling each hole.
"Users of the A-1 Series drills have noticed the benefits of drilling dowel holes with our equipment," explains Todd Jurjevic, Director of Sales and Marketing for Minnich Manufacturing. "The new trigger grip valves put total control of the drill literally at the operator's fingertips," he adds.
In addition to the ergonomic benefits of the A-1 dowel pin drills, Minnich Manufacturing's A-1 Series drills contribute to contractors' bottom lines by keeping maintenance requirements to a minimum. "The routine maintenance for the A-1 drill is pretty simple," says Jurjevic. "The contractor just needs to check that all bolts are tightened daily, and that the drill is properly lubricated. That's it."
All models in the line are capable of drilling anywhere from 3" – 12" from the top of the slab. The four models in the A-1 series, from lightest to heaviest are:
· A-1-36: 185 lb., featuring a cutout width of 36", and a drill depth of 10" · A-1-48: 200 lb., featuring a cutout width of 48", and a drill depth of 18"
The versatile Minnich A-1 series can be configured in four different ways depending on the application, forgoing the need to purchase additional equipment or conversion kits. These configurations include:
· Two wheel on-grade for more accurate drilling
· One wheel on-grade for drilling from corner to corner of the slab
· Wall configuration for zero-clearance drilling
· Upright configuration for vertical applications.