Productive but Compact Wirtgen W 150i New in 2013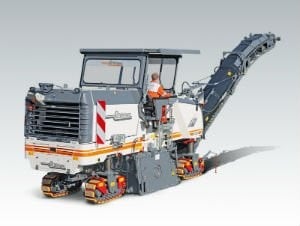 The new Wirtgen W 150i carries on the tradition of the established W 150, but complies with U.S. Tier 4i emissions regulations.
The new W 150i is a large but compact milling machine that can optionally be fitted with milling drums of 3-ft., 11-in. (1200 mm), or 4-ft, 11-in. (1500 mm) working width, letting the W 150i be used for a variety of different applications such as milling large surfaces, removing pavement layers at full depth, or leveling. The W 150i cutting depth is zero to 13 in. and the machine accepts the Level Pro control system, and FCS and Flexible Cutter System Light (FCS L) drum change systems.
The W 150i houses a powerful six-cylinder Cummins engine with an output of 400 hp, with state-of-the-art technology for lowest environmental emissions levels. To ensure effective exhaust purification, its engine is equipped with a combined two-way catalytic converter and particulate filter. Its exclusive WIDRIVE machine management system enables high performance levels, regardless of working conditions, and operating costs are further reduced by the machine's intelligent diesel engine control.
The W 150i's large engine cowling opens electrohydraulically, permitting direct access to grouped maintenance points, either from the side, or from the operator's platform. The W 150i is easy to service, allowing crews to concentrate on the project, not the machine.
The W 150i is equipped with Wirtgen's exclusive Parallel-to-Surface (PTS) technology, which automatically keeps the cutter housing level as the W 150i moves into a cut, accelerating production. It also guarantees reliable traction of the W 150's four crawler track units, enabling the machine to always adapt to ground conditions dynamically, and ensuring permanent ground contact and precise adherence to the selected working depth during the milling operation.
Wirtgen's Vacuum Cutting System option is available for the W 150i, and removes dust, fines and smoke from the cutter chamber and extracts them out of the conveyor, keeping the machine cleaner and prolonging component life.
The machine's "wasp waist" – the specially shaped central part of the machine chassis – ensures that the operator has a perfect view of the milling edge, enabling him to steer the machine with pin-point precision from the individually adjustable driver's seat. This free-view concept produces significantly better and more effective milling results without the need for time-consuming manual reworking.
Turning maneuvers are easy, even in space-restricted area, thanks to the W 150i's compact dimensions and large steering angles.