Little Beaver Trailer-Mounted Rig Simplifies Drilling in Remote, Rugged Areas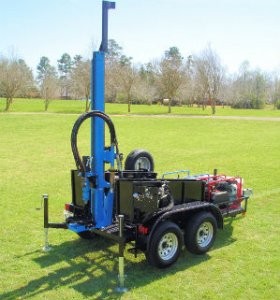 The LS300T+ trailer-mounted drill rig from Little Beaver gives water well drillers, soil samplers and geotechnical technicians the capabilities of a large drill rig in a lighter, more convenient package. It's mounted to a 7,000-pound capacity, tandem-axle trailer that users can tow with a small, 4-wheel-drive pickup, SUV or basic utility vehicle (BUV) to access remote, rugged areas.
The LS300T+ drill is designed for use in areas with minimal resources for transportation and operation, and has proven its capabilities and ease of use on water well projects in developing countries. It measures 190 inches long and 82 inches wide, making it smaller than typical truck-mounted drills. Its compact size and trailer-mounted design make it easy to transport from site to site. It also features a heavy-duty, 6- by 3-foot mast that folds down for convenience and safe transport. The drill is shipped fully assembled and ready to use in a 20-foot container.
The LS300T+ can bore holes 6 inches in diameter and 300 feet deep in nearly any ground conditions, from sand to clay to soft rock, as well as many rock formations. The drill's powerful hydraulic system features a pullback force of 5,000 pounds for easy removal of augers and extensions. The unit's bypass flow control system provides adjustable push down force, which allows users to tailor the weight on the bit as necessary for varying soil types. When paired with Little Beaver's optional anchor system, it can achieve 5,000 pounds of push down force for efficient drilling in hard, rocky soil.
In addition, the LS300T+ features a 3-way ball valve for added convenience when changing out drill pipe extensions. The valve lets the operator bypass the mudflow when changing the pipe, eliminating the need to shut down the mud pump. The rotary drive mount also features a swivel base that swings aside for quick, easy access to the borehole.
The drill provides 3,000-psi maximum pressure with either a 20 HP Honda gas or a 19 HP Kohler diesel engine. The unit's hydraulic power pack operates at 10 gallons per minute (gpm) to achieve a rotary speed of 95 RPM. It's equipped with a 200 GPM mud pump for quick and efficient clearing of cuttings from the hole.
Several options and kits enhance the versatility of the LS300T+, and a variety of drill collars, bits and augers are available for specific drilling conditions. The SSK1 kit includes a tower, third hydraulic valve and cathead for taking core soil samples and performing standard penetration testing.
Little Beaver designed the drill for longevity and ease of ownership. The high-strength welded steel frame, rotary and swivel provide unmatched durability, while the heavy-duty drill chain resists premature wear. All crucial maintenance and greasing points are easily accessible for simplified maintenance. To ensure fast, easy setup, all required assembly tools are included. The LS300T+ is backed by a one-year warranty.