Multiquip proudly introduces the MQ RAMMAX 1575 articulated trench roller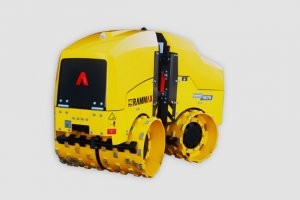 Multiquip is pleased to announce the remote controlled MQ RAMMAX 1575 articulated trench roller.
"The MQ Rammax RX1575 has an entirely new design," said Torsten Erbel, the vice president for product management, engineering and support, for Multiquip. "We set out to improve our customers experience by focusing on the roller's reliability and reducing down time. These areas consistently rate as top considerations by contractors when evaluating trench rollers for fleet purchases."
The RX1575 delivers the compaction performance that contractors expect from MQ Rammax products. The roller has two vibration settings; high, producing 16,860 pounds of centrifugal force, and low, producing 8,430 pounds. This enables the operator to adapt performance to suit the job's soil and lift conditions.
The rollers unique ability to oscillate, in addition to articulate, offers unparalleled stability over uneven terrain. Steel padded drums, with four sets of scrapers, provide optimum traction and are available in 24-inch or 33-inch operating widths to meet trench requirements.
Safe operation is supported by a wireless infrared transmitter that covers a wider operational area. Two ideally positioned receiver eyes reduce the chance of a lost signal over uneven terrain. The remote control charges quickly with a solar panel design or via a backup power cable connector.
Powered by a fuel efficient Yanmar diesel engine, it consumes up to 50% less fuel than other leading competitors. Known for its reliability, the engine delivers reliable starting and performance.
Maintaining the MQ RAMMAX 1575 is simplified by a maintenance free articulation joint. Service technicians will appreciate the front and rear gull wing style covers that open to 90 degrees to provide easy access to all service points.
Multiquip backs up the MQ RAMMAX RX1575 with an industry best 5-3-2 warranty; five years on bearings, drive motor and eccentric housing assemblies, three years on the Yanmar engine, and two years on basic machine, parts and labor.