Freightliner Trucks "Slice of Life" Drivers Realizing Significant Fuel Efficiencies
Participants laud simplicity of SCR maintenance, performance of Freightliner Cascadia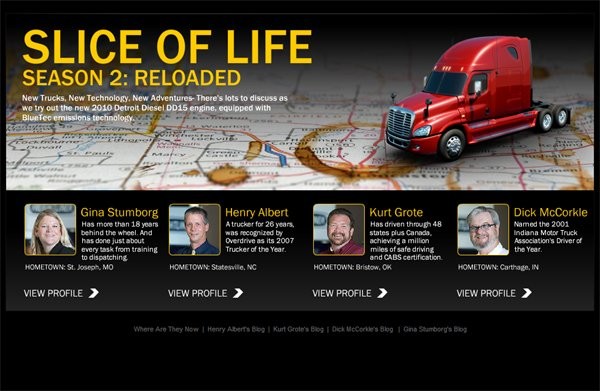 Freightliner Trucks "Slice of Life" program is well underway for Season 2.

Through the program, three owner-operators were each given a 2010 Freightliner Cascadia equipped with a 2010 Detroit Diesel DD15 engine, featuring BlueTecemissions technology. The combination of the Cascadia – one of the most aerodynamic trucks on the road today – and the powerful and efficient DD15 engine delivers impressive fuel economy.

"You need to start with the right vehicle package," said Henry Albert, one of three drivers currently in the program. "I'm driving the best possible truck/engine combination. The better your equipment, the more it benefits you on the trail."

Each driver reported that they found the technology easy to maintain, noting that Diesel Exhaust Fluid (DEF) is readily available nationwide at fueling pumps. Engines using SCR technology consume DEF at a rate of approximately 2 percent of diesel usage which is providing the "Slice of Life" drivers with a range of more than 8,000 miles before requiring them to fill their 23-gallon DEF tank.

"One of the biggest myths is that it's going to be a pain to fill up with DEF, but it's actually so easy, you barely have to think about it," said Gina Stumborg, another driver in the program. "To me, BlueTec emissions technology is one of the best parts about the engine."

Stumborg reported averaging around 7.7 miles per gallon for an 80,000-lb gross combination weight, which she described as "phenomenal."

"I'm extremely happy with the mileages I've been getting," said Stumborg. "I tell people that with the money they can save in fuel, the truck ends up paying for itself."

Albert has seen his truck get into the 9.0-9.4 mpg range on recent trips (with loads ranging from 27,000 lbs to 43,000 lbs). Dick McCorkle, the third driver in the "Slice of Life" program, has also averaged approximately 7.7 mpg with about a 30,000-lb payload, though recently he achieved upwards of 8.7 mpg.

While noting that the Cascadia and DD15 engine combination contributes to achieving optimal fuel mileage, the drivers also acknowledged that driving technique can play a significant factor. Albert said that he plans his fueling routes based on how difficult it is to get in and out of truck stops and also looks to visit truck stops that are on top of a hill, as opposed to in a valley.

"If you go to a truck stop located in a valley, it takes more fuel to get back up to speed," Albert explained, sharing tips on driving technique. "I also drive very gingerly on the throttle – as if there is an egg between the pedal and my foot."

Albert also commented that any efficiency-conscious driving techniques would be more amplified for those who had the best equipment. With features such as a roof deflector, chassis side fairings with skirts, side extenders and bumper with closures, the Cascadia was specifically designed to achieve optimal aerodynamics.

Albert has also gone to extra lengths to further enhance the aerodynamics on his rig by adding side skirts and a nose cone to his dedicated trailer.

"The more defined the aerodynamics of the truck are, the bigger difference those driving techniques will make," said Albert. "I am a mileage nut and was already implementing the driving techniques, so the aerodynamic Cascadia and I have really been like a perfect marriage."

Stumborg agreed, stating that the combination of the Cascadia and DD15 had made her a permanent convert.

"I am phenomenally pleased with this truck," said Stumborg. "I tell everybody that they need to go drive one and experience it for themselves."

For more information about the "Slice of Life" program, upcoming appearances, podcasts and blogs from the participants, or to directly correspond with the drivers, go to www.SliceofTruckerLife.com.

Company info
Related products