KPI-JCI's Drive-Over Truck Unloader delivers convenience, efficiency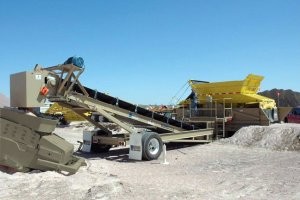 The KPI-JCI Low-Pro Drive-Over Truck Unloader emphasizes maximum efficiency and portability, while at the same time reducing environmental impact and saving time and money.
The drive-over truck unloader features a 3 foot low-profile design, which reduces set-up time compared to conventional unloaders which require larger, higher earthen ramps, according to Product Manager Jodi Heirigs.
"The low-profile design delivers the convenience, efficiency, ease-of-use and environmentally friendly characteristics your operation demands," Heirigs said. "Its compact design means you can easily relocate to multiple set-up locations at various sites. Because it's road portable, you can eliminate time normally spent transferring the unloader to and from a trailer and spend more time unloading and stockpiling instead."
The KPI-JCI Low-Pro Drive-Over Truck Unloader can be paired with a KPI-JCI SuperStacker, resulting in reduced material degradation and pile loss.