L556 Industrial Wheel Loader Stage IIIB/Tier 4i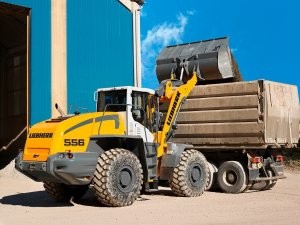 Exhibited at bauma 2013 this year, Liebherr's L556 Industrial Wheel Loader Stage IIIB/Tier 4 interim belongs to the company's large-size loader range and features Common Rail Fuel Injection which optimizes the combustion process in order to reduce emissions and fuel consumption.
The L556 Industrial Wheel Loader Stage IIIB/Tier 4i on display at bauma was configured for material handling applications, equipped with industrial lift arms and a hydraulic quick-coupler system that comes standard, allowing a wide range of Liebherr equipment options to be attached and removed quickly and safely. The machine is powered by a 188-hp diesel engine; it has an operating weight of 46,295 pounds, a 4.3-cubic-yard bucket and offers an articulated tipping load of 26,015 pounds.
In addition, the loader is equipped with a wide range of options such as front and rear chassis protection, tilt cylinder and front windshield protection, particle protection and a wide-mesh, reversible fan cooling system, ideal for scrap operations.
Along with its use of hydrostatic drive, the new generation of wheel loaders utilizes a newly developed "Liebherr Power Efficiency" (LPE) system that provides additional fuel savings. This electronic innovation adjusts performance power to the optimal degree of efficiency for every working situation. Compared with other machines in similar size categories, Liebherr says their driveline concept cuts fuel consumption by up to 25 percent. Less fuel is needed for the same performance, and tire and brake wear are reduced to a minimum.
Additional features include: optimized tipping loads, excellent machine stability, and a new extended joystick that enables drivers to control two additional hydraulic functions easily and safely with their thumb.