Goodyear DuraSeal Technology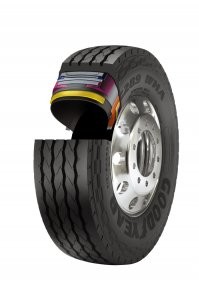 Goodyear DuraSeal Technology is a gel-like substance built into a truck tire that instantly seals nail-hole punctures of up to 1/4-inch in diameter in the repairable area of a tire's tread, where punctures most often occur.
This Goodyear exclusive technology helps keeps trucks up and running. DuraSeal Technology can be found in a variety of Goodyear truck tires, and is an ideal technology for waste haul, construction and on-highway trucks.