Atlas Copco introduces the new XAS 1800 JD7 iT4 air compressor in Canada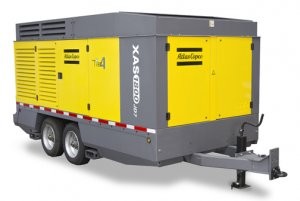 Atlas Copco introduced the XAS 1800 JD7. The XAS 1800 is designed for applications requiring a very high volume of air at medium pressure and is also compliant with interim Tier 4 Environment Canada and EPA emission regulations. Benefits include easy-to-use electronic controls, optimized fuel consumption and a small footprint to reduce transportation cost.
Along with an updated exterior, the XAS 1800 offers the all new XC3003 electronic controller. The large display and simple yet intuitive design provides ease of use for the operator. With help from the optional FuelXpert, a unique fuel saving system, the engine speed and air inlet valve are electronically regulated to optimize fuel consumption.
The XAS 1800 portable air compressor produces 1,800 CFM at 100 psi (7 bar) and 1,600 CFM at 150 psi (10 bar). The Atlas Copco Portable Full Feature (PFF) filtration system removes oil aerosol content to 0.01 mg per cubic metre and is able to break particles down to 0.01 micron at the industry's lowest pressure drop. The aftercooler reduces the compressed air outlet temperature to approximately 15 degrees Celsius over ambient for higher quality air.
Cold weather features also come standard on the XAS 1800 JD7. To ensure maximum machine performance, the portable air compressor is equipped to handle temperatures as low as -25 degrees Celsius.
High speed, tandem axle design and forklift slots allow for easy towing and help to lower transportation costs. Safety features include electric brakes that come standard, pressure displays, an emergency stop and an optional spillage-free frame.