Husqvarna DXR 300 – increased stability and a longer reach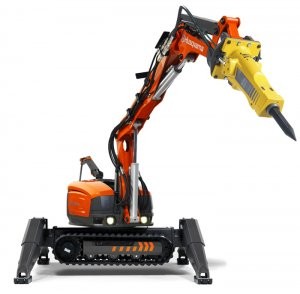 The new Husqvarna DXR 300 is a powerful addition to Husqvarna's range of remote demolition robots. With 30 hp (22 kW), the strong DXR 300 offers efficient demolition in tough environments and new outriggers deliver superior stability and enable the robot to carry more than 930 lbs (420 kg) of workload.
By launching the DXR 300, Husqvarna has taken a big step toward offering customers a complete series of remote demolition robots. "We can now offer customers robots in the 2,205 - 4,410 lb (1,000 - 2,000 kg) range," says Lars Gustafsson, Global Product Manager, Husqvarna Construction.
The Husqvarna DXR 300 is equipped with new outriggers that are 13 in (33 cm) wider than the existing outriggers, which means they provide increased stability and have the ability to carry more than 930 lbs (420 kg) of workload. Nevertheless, the DXR 300 weighs only 4,320 lbs (1,960 kg), which makes it the lightest remote demolition robot in its class.
DXR 300 is equipped with a fixed arm that enables precise positioning of the tool and requires only a minimum of service. With a full reach of 17 ft (5.2 m), it is ideal for demolition of concrete and brick constructions, staircases, roofs and balconies as well as tight locations such as courtyards.
Adopting the user's perspective in the product development stage meant considering all aspects of the user's prerequisites. "DXR 300 is only 31 in (780 mm) wide. That means it will fit through most doorways and construction lifts, making it suitable for diverse applications within the construction area," says Gustafsson.
The remote control with a 3½ in color display and Bluetooth technology is made to facilitate one-handed operations and to make daily work easier for the user. The control system is adapted to handle conventional demolition environments with high vibrations, concrete dust and water. It also provides an element of safety, as the operator can stand at a comfortable distance from the machine while working.
Technical Specifications
• Power: 30 hp (22 kW)
• Weight: 4,320 lbs (1,960 kg)
• Reach: 17 ft (5.2 m)
• Control system is modular, digital CAN-based PLC
• Automatic Breaker lubrication is included in standard version