SD115 soil compactor now Tier 4i emissions compliant
Updated with new features, including Tier 4i certified four or six cylinder engines, the SD115 soil compactor puts environmental care at the forefront.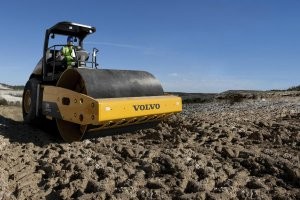 The SD115 soil compactor from Volvo Construction Equipment is designed to meet the needs of a wide range of medium- to heavy-duty compaction tasks and comes loaded with new features. Weighing 25,690 lbs (11,650 kg), the updates are designed to improve the overall compacting experience — efficiency, productivity and fuel economy are boosted, while the cost of operation is reduced.
Exceptional drum performance The SD115 is built for maximum compaction performance, with high centrifugal force, amplitude and drum weight combining to produce the energy necessary for excellent compaction and high machine productivity. This soil compactor achieves greater material density in fewer passes.
As terrain and material depths change, increasing and decreasing dynamic drum forces is simple. High or low amplitudes can be selected with a switch on the operator control panel, providing the operator the flexibility to adjust dynamic force. Two drum frequencies can also be chosen with a console switch to compensate for changing soil types and conditions. A 5-frequency feature is available as an option to further boost the machine's versatility and performance.
A center joint provides +/-38 degrees of articulation and +/-17 degrees of drum oscillation for stable, flexible machine performance and greater operator comfort over rough terrain. With the 84-inch (2.13 m) drum in constant contact with the ground surface, compaction is smooth and uniform.
A redesigned drum frame design makes compaction on steep slopes easier and more effective, as the SD115 can negotiate 35 percent slopes for better gradeability. The angled frame allows higher clearance in the approach to steep slopes and while loading, eliminating the possibility of damaging the road surface and preventing possible damage to the machine.
The heavily constructed axle is integrated in the drive train for an efficient rear-wheel drive system. The No-Spin® differential increases traction, eliminates tire slippage and improves gradeability, performance and productivity. The optional Ultra-Grade® traction system provides optimum stability and surefootedness when operating on slippery surfaces and steep inclines, improving gradeability.
Now more environmentally friendly and productive The centerpiece of the SD115 is its powerful Volvo engine, available in a four-cylinder (147.5 hp / 110 kW) or six-cylinder (173 hp / 129 kW) version. The Tier 4i EPA-certified engine improves air quality and meets stringent North American regulations, while achieving all the performance, dependability and fuel efficiency that Volvo is known for. A diesel particulate filter (DPF) burns off and eliminates material build-up inside the filter — further reducing emissions. For added peace of mind, the engine is backed by Volvo dealer service and parts support, as well as a 1,000-hour warranty.
A hydraulically operated engine cooling fan runs only when needed, reducing fuel consumption — noise levels also decrease for greater operator comfort. Volvo long-life coolant protects the machine for up to 6,000 hours, resulting in lowered operating costs and more uptime. A new hydraulic oil fill and Volvo standard sight glass are included, minimizing the possibility of oil spills and overfilling — and thereby preventing damage to the environment.
In line with the Volvo commitment to safety, the emergency stop system can be easily activated by the operator, shutting down the engine, applying the brakes and stopping the machine's movement. Further promoting safe operating conditions, a switch located in the seat will shut the machine down and apply the brakes if the operator rises from the seat for more than five seconds during operation.