Bergkamp's FP5 Sand Spreader attachment maximizes truck utilization and disperses sand in widths up to 34 feet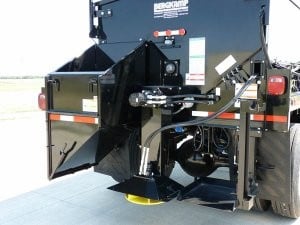 Bergkamp Inc., based in Salina, KS, offers the optional Sand Spreader attachment to help government agencies and contractors employ their Bergkamp FP5 Flameless Pothole Patchers in winter months when patching is not always ideal. Used in place of the standard material chute or Swing Auger System, it applies an even coat of sand to the road surface to create traction before and after snow fall and freezing precipitation. Sand is held in the unit's 5.1-cubic yards hopper (used for asphalt when patching) and then transferred via a hydraulically driven auger to the 17.5-inch (44.5-centimetre) in diameter poly spinner for distribution. Easy-to-use in-cab controls let you regulate how much sand is being laid down and adjust spinner speed to change the width of the sand coverage from 5 to 34 feet (1.5 to 10.4 metres). Since the Sand Spreader runs off the same hydraulic system as the Flameless Pothole Patcher, switching between placing asphalt and sand is quick and easy. The unit's selector valve shuts off patching mode to prepare for spreading sand, while quick disconnects allow the operator to easily disconnect the hydraulic breaker hoses and connect the spinner.

Sand is more cost effective than salt, so to help stretch pavement management budgets, the Sand Spreader can be used exclusively or in conjunction with salt trucks. Sand is also a more vehicle-friendly alternative due to its non-corrosive properties. The Sand Spreader provides added flexibility for areas that don't use salt. In less than one hour, the unit can switch from patcher to Sand Spreader to quickly provide road traction in the case of a surprise snow fall or freezing precipitation. When not needed, it can be easily stored and protected.

In addition to the Sand Spreader, Bergkamp offers other options for its Flameless Pothole Patcher, including: the Swing Auger System, the InPave System, a secondary auger motor, LED lights, upgraded arrow boards, a single-drum vibratory roller, traffic cone and shovel holders, asphalt lutes, a propane hand torch, a front cleaning fluid hand spray wand and various sizes of pavement breaker hammers and attachments.