World's largest pipe-ramming hammer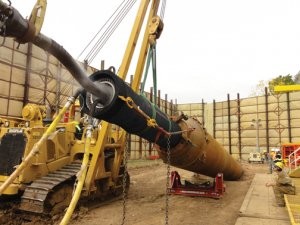 HammerHead Trenchless Equipment unveiled the world's largest pneumatic pipe ramming hammer at the 2013 Underground Construction Technology International Conference & Exhibition being held Jan. 29 through 31 in Houston. The 34-inch hammer can install casing 48 inches to 180 inches in diameter in drainage culvert and washover applications and can be used for pipe assist or pipe extraction, guided pilot bore ramming, and horizontal directional drilling assist.
The hammer was recently field-proven in an Ontario, successfully installing 185 feet of 72-inch diameter steel casing.
HammerHead CEO and president Brian Metcalf said, "We are excited to offer this extraordinary new product to our customers. Our new solid body 34-inch hammer enables HammerHead to provide solutions to the most challenging of projects on contractor's job sites worldwide. The amount of power generated through our unique design and patented air reverse that allows for forward and reverse from the control station will provide contractors with productivity never before available for installation of large diameter pipe."
Metcalf continued: "The release of the world's largest pneumatic hammer cements our position as the leading manufacturer of pipe ramming and pipe bursting products available in the trenchless market today for the installation of underground utilities."
The 34-inch rammer has already been released for production, and 48-inch collets are already available. Ram adapter cones are currently in development for other sizes ranging from 48 inches through 180 inches.
Although the hammer is designed specifically for pipe ramming projects, with custom-built tooling the hammer can also be used for pipe bursting to replace 36-inch pipe and larger. HammerHead will provide custom-built accessories upon request.