Three new Weiler C-Series rollers
High static pressures in tight working environments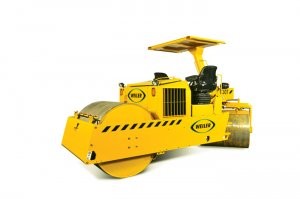 Weiler announces a new line of split-drum static rollers, engineered to perform in both confined and high-production working environments.
The Weiler C307, C310 and C315 Split-Drum Static Rollers provide static ground pressures that achieve compaction goals in a broad range of applications including high-end production settings. While many weight and static ground pressure configurations are available, the C307 starts with an average of 36 kg/cm of pressure (202 lbs/linear inch) when including its base weight and water in drums and tanks. That number is 44 kg/cm (249 lbs/linear inch) with the C310, and 52 kg/cm (275 lbs/linear inch) for the C315. Drums on the C307 and C310 are 127 cm. The C315 drums are 137 cm.
"The machines deliver the static forces required for compaction in many applications," said Nigel McKay, Weiler sales manager. "They are excellent performers in confined areas because of their compact size, maneuverability and outstanding visibility."
Split drums
In addition, the C-Series rollers feature split front drums, where the outer half of the drum rotates faster than the inner half. This enables the rollers to compact confined, curved mats without tearing the freshly placed asphalt. A low-profile hood also enhances edge visibility when making tight turns.
Besides productivity and an ability to work in tight spaces, other key benefits include:
• Ease of operation and transport
• Operator comfort for improved productivity and safety
• Accessible components and parts for ease of servicing engine, roller components and the water spray system
Typical applications include commercial and residential paving, highway construction, shoulder work, parking lots, driveways, asphalt resurfacing, confined spaces, curb edges, compacting base and finish layers of asphalt, and compacting granular sub-base materials.
Comfort, visibility
No matter what the application, the rollers are built to help operators stay fresh and productive throughout their shifts. Optimal visibility, achieved in part through the sloped hood, keeps operators in their seats without stretching to see obstacles. Among the other comfort and visibility features:
• A three-position pivot steering wheel (right, centre, left) enhances the operator's sight lines and speeds close work along obstacles, such as curbs
• Additional external steps and handles make it easier to enter and exit the machine
• An optional air-suspension seat creates a more smooth ride
• Easy-to-reach controls reduce fatigue and enhance productivity and safety
Service, support and long life
Sales and parts are provided through the Cat Dealer network. The machines are built to make maintenance easy and key service points readily accessible. Components also are designed to last, including a plastic fuel tank to prevent rusting and durable nylon-braided wrap to protect wiring.
Among the product service and support features:
• Reliable, fuel-efficient Cat C3.4 engines
• Wiring that is colour-coded and numbered, facilitating diagnostics
• Utilization of maintenance-free batteries
• Engine and hydraulic remote drains that are easily accessible for ecology-conscious draining
• Routine service and grease points that are easy to access
• Fuel and water tanks that are accessible for cleaning
Water spray system
Asphalt pickup is prevented through the rollers' water spray system, which includes an extended-life pump. The water system utilizes two 379 L (100-gallon) tanks that limit refill stops. When it is time to stop, a large fill port enables easy and fast reloading. A triple-filter, meanwhile, optimizes uptime by reducing clogging.
Among the other water system features:
• Nozzles at both the front and rear optimize water coverage on drums
• A pressurized feed system and eight intermittent spray settings provide even drum coverage
• Water spray components feature corrosion-proof materials
• Grouped ports facilitate water system draining from a single location
• Easy-to-clean spray bars feature hand-removable caps
• Spray nozzles and filters can be removed by hand for periodic cleaning
Weiler split-drum static rollers include many other standard items that prove invaluable on the jobsite. They include alternator capacity that provides the necessary power for lights on night shifts, all weather connectors, and front and rear cocoa mats.
When it's time to leave the jobsite, the rollers provide enough clearance that the operator can simply drive them up a ramp and onto the trailer.