Remixing Transfer Vehicle handles large volumes for high-production paving jobs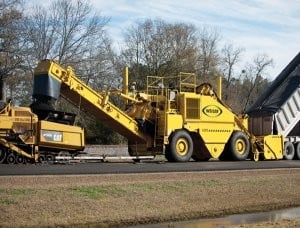 Weiler's new E2850 Remixing Transfer Vehicle (RTV) is designed to help improve smoothness and handle large volumes on high-production paving jobs.
This is a large machine with fast-pace capabilities. A 224kW (300-hp) Cat C9 engine powers working speeds up to 59 metres per minute (194 feet per minute) even when the hopper is at or near its full capacity of 22.7 metric tons (25 U.S. tons). The hopper and augers are designed for evenly distributed throughput as well. Wide, self-cleaning caster wheels help evenly distribute the heavy loads.
The large RTV's impact on trucking is significant. "It gives crews flexibility," said Bill Hood, vice president at Weiler. "When encountering a location that's difficult for trucks to access, chances are the E2850 can reach it – despite its size."
The RTV fits beneath most power lines and is able to navigate tighter jobsites, such as cul-de-sacs, where trucks often struggle, while hydraulically extendable push rollers help align trucks. It allows trucks to deposit their loads a significant distance from the paver, if necessary, plus larger-capacity trucks can be used than when end-dumping. Also, the RTV's storage capacity provides flexibility when traffic or other delivery problems limit truck access to the paving train.
Some of the reasons why the E2850 is very manageable for operators include:
• the steering angle returns to centre on demand;
• a flow divider with a momentary switch provides equal force to the front and rear wheels for enhanced traction when working on uneven terrain;
• the electronic controller provides instant feedback on hydraulic pressures, ground speed and engine operation;
• the operating platform hydraulically extends beyond the mainframe from 0 to 305 mm in either direction for improved visibility on the right or left sides;
• three-speed hydrostatic drive powers Cat planetaries for smooth on-the-fly shifting;
• the hydrostatic drive's joystick control and variable speed dial make it easy for operators to match the pace of the paving train; and
• optional rear steer provides a tight inside turning radius of 4.2 m.
The Weiler E2850 is designed to increase end-of-day productivity by shortening cleanup time. The machine is sold, and serviced, through the Cat Dealer network.

Weiler
weilerproducts.com