MT Multi-Tool ideal for processing cable and rebar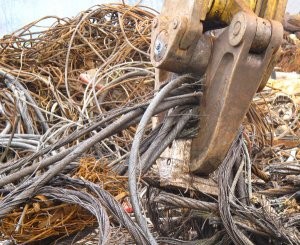 Uniquely suited to handle hardened steel wire, all types of steel cable and rebar, the patented MT Series Multi-Tool, outfitted with the patented Quick-Change Shear Jaw Set, is the only shear design that has proven itself to stand up to continual use in these full-time processing applications, according to Allied-Gator. These materials have been notoriously troublesome for recyclers and have traditionally been very costly to process with mobile shears.
The proprietary design features of the MT, its very high levels of power and rigid jaw design are just some of the key attributes that allow cutting these materials on a long-term basis to be a profitable reality. The MT's extremely high throat force, generated by the patented Allied-Gator Power-Link and Guide System, enables the tool to power through each cut with a continual power gain, rather than lose force after these materials have massed themselves into the shear jaw.
In addition, the superior strength and rigidity of the MT's High-Alloy Steel CAST components allow the tool to shear through wire, cable and rebar materials, while providing the shear blades the stability they require. This enables the Shear Jaw Set to maintain the blade clearances that are essential to continual cutting performance in specialized applications. Plus, units feature long-lasting wear parts and low cost to operate and maintain.