Rust remover for iron and mild steel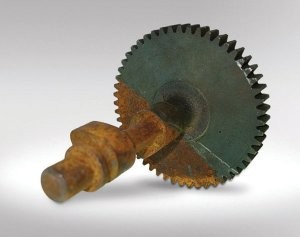 Bio-Rust is a non-corrosive solution that eradicates rust on iron and mild steel. It can be used anywhere rust is present. For example, fabrication shops can use the solution to clean steel prior to painting or coating operations, while maintenance workers can use the solution to efficiently clean even the most intricate mechanisms – in a way that is safer for the earth, people and parts.

Comprised of a secret formula of selective chelating agents that work to detach iron oxide from steel, Bio-Rust is safer for workers and the environment because it does not use highly corrosive and toxic acids. The new product is VOC-free (Volatile Organic Compound-free), solvent-free, and phosphate-free.

Workers can safely use Bio-Rust without wearing special clothing and without necessitating to abide by complicated safeguards. The non-flammable solution does not require costly storage or complex disposal procedures.

Traditional rust removal methods are time-consuming and tedious, especially for complicated parts. With BIO-RUST, the worker simply immerses parts in the liquid at room temperature. It has a high workload and can remove 1.0 kg (2.2 lbs) of iron oxide per 20 L of Bio-Rust liquid. Once the rust is removed, the user rinses parts with water, then immediately applies a corrosion protection product.