Simple attachment for vacuum excavator reduces operator fatigue and improves productivity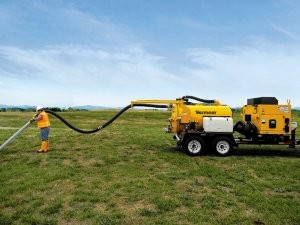 McLaughlin Group, a leading manufacturer of vacuum excavation equipment, has introduced the Strong Arm — a heavy-duty steel arm from the vacuum excavator that helps carry the weight of the vacuum excavation hose.

"Strong Arm is an economical option to save labor during vacuum excavation work," said Dave Gasmovic, president of McLaughlin Group. "The tank-mounted attachment carries the weight of the hose during operation versus the operator having to carry the load of the hose, plus the debris being vacuumed. This helps reduce operator fatigue and improve productivity."

Strong Arm provides 200 degrees of rotation and extends 6 feet (1.8 m) from the tank, providing a wide work range in any application.

The Strong Arm attachment is currently available on all McLaughlin 500 and 800 gallon (1892.7 to 3028.3 L) models. Strong Arm can also be added to an existing McLaughlin vacuum at your local Vermeer dealer.

McLaughlin vacuum excavators are available through the Vermeer dealer network.