High Five series concrete pulverizer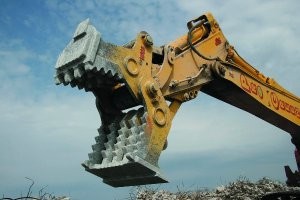 The XCP3 "High Five" series heavy duty concrete pulverizer is the latest in a long evolving line of mechanical pulverizers from Nye. These units are designed to outperform conventional hydraulic units in both primary and secondary crushing operations.
Nye pulverizers are built entirely from extra thick quenched and tempered alloy plate, ready for years of work on the most demanding jobsites. The XCP3 series features biomimetic crushing jaws modeled after bone crushing wolf teeth, including canine fangs for grasping and puncturing material while protecting the noseplate from wear. Alloy teeth are welded in place, not pinned, so they can't fall out and jam the crusher.
Plus, these units include a new pinch plate for grabbing and pulling re-bar, massive side plates at torque tubes that resist twisting, and an optional patented ripper shank, excellent for picking, prying, lifting and flipping heavy slabs. Nye pulverizers are easy to install, require no extra hydraulics and offer simple, safe, almost silent operation. Quick coupler and pin grabber models are also offered by the company.
A new 20 page brochure is available on the web at www.nye.ca or for videos browse youtube.com/nyemfg