Roadtec's New 10-foot (3-metre) Tier 4i Pavers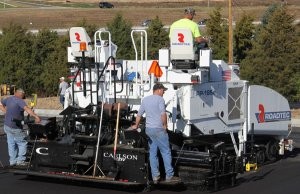 Both of the company's 10-foot (3m) standard asphalt paver models have received a major redesign, which comprises Tier 4i emission technology and many additional upgrades and improvements. The new pavers carry the designation 'e' behind the model numbers and are called the RP-190e rubber-tired highway class paver and the RP-195e track highway class paver. Models that are sold into certain export markets without Tier 4i standards will carry the designation 'ex' behind the model number.

Improved operator visibility and easier access to service points are among the improvements found with the new models. Moreover, the operator stations have been redesigned to provide the operator greater efficiency and comfort, including hydraulic-pivot consoles and selectable seat positions. Among the numerous design refinements are new adjustable delta plate design, redesigned hydraulic tunnel panels for improved accessibility, and increased fuel capacity from 120 to 135 gallons (454 to 511 litres).

Conveyor chains have been beefed up and are of the heavy-duty offset type. Tough floor plates are made from wear resistant chromium carbide and drop in without bolts. A new dual hinge apron plate design allows easy access and clean-out. Access to hydraulic filters and test ports has been greatly improved by clustering these components in one easily accessed location.
Release agent spray-down systems are now standard and include a dual system; one for diesel, the other for release agent.