Enerpac re-invents the ULTIMA steel hand pump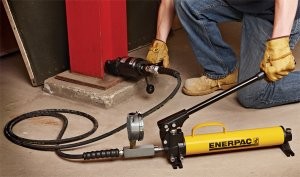 Enerpac's ULTIMA series of steel hand pumps are designed for easier and safer operation, as well as extended life. These versatile steel hand pumps are ideally suited for rugged applications, where durability is of utmost concern.

The re-invented series now features an innovative design that provides greater ease-of-use. Handle effort is reduced by up to 20 percent in the ULTIMA steel hand pumps without compromising speed or performance. The innovative bypass system further reduces loads often created by two-stage pumps. By incorporating the new Power Push handle grip and linkage design, loads are better distributed further reducing felt load while pumping—minimizing operator fatigue.

Incorporating a vent-free reservoir, these hand pumps eliminate performance deficiencies from forgetting to open a vent as well as spillage resulting from a vent left open. For additional ease, the fill plug is conveniently located on the top of the hand pumps, enabling them to be quickly, cleanly, and easily refilled. Plus, the pump contains an integrated carrying handle for durable and hassle-free mobility, and the Sure-Grip release knob enables simple gripping and handling, with or without gloves, for superior control while releasing pressure.

"By further improving Enerpac's already proven line of hand pumps, we demonstrate our dedication to manufacturing products that not only increase productivity, but also maximize worker safety," said Tim Ebner, Global Product Marketing Leader at Enerpac. "We deliver easy-to-use products that are combined with advanced safeguarding features, providing users with the most effective and long-lasting hand pumps."

To ensure superior safety along with dependable performance, the ULTIMA series is equipped with various safety features, including a reservoir over pressurization system and a wider footprint. The reservoir over pressurization system releases excess pressure, which could otherwise create an unsafe condition. The wider footprint further increases safety by improving stability, reducing the potential for pump tips or slips, while the vent-free reservoir prevents un-safe spills.

In addition to ease-of-use and safety, ULTIMA steel hand pumps are also constructed for greater durability and longevity. The solid steel construction can withstand significant on-the-job abuse. The reservoir features thick-wall steel tubing, while the pumping head and base are cast from steel that is sculpted to reduce weight. The tie rod design allows it to be effortlessly disassembled for maintenance or servicing. A chrome-plated plunger protects the pump from wear and withstands contaminants, while a wiper ring cleans the plunger, preventing contamination from damaging the piston. The vent-free reservoir prevents contaminants from entering the pump through the opening.