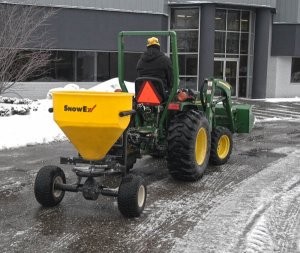 SnowEx introduces two new ground-drive spreaders for use on sidewalks, parking lots and other off-road applications. Equipped with lawn-and-garden style hitches, they are designed to tow behind compact tractors, ATVs and utility vehicles.

The SP-725G and SP-1225G offer 7- and 12-cubic-foot capacities, respectively. They feature corrosion-resistant polyethylene hoppers and 12-inch, adjustable stainless-steel spinners. Thanks to a unique agitation system, the spreaders are capable of handling bagged rock salt and ice melters. They spread up to 30 feet wide at 5 miles per hour and are available with a deflector skirt kit for narrowing the spread width on sidewalks.

The ground drive system is comprised of a heavy-duty transmission and large, narrow pneumatic tires for maximum traction on snow and ice. Other standard features include a 14-foot cable for controlling the manual gate and a clear, fitted hopper cover for weather protection. Both models are covered by a two-year limited warranty.