Versatile new Doosan DL300 wheel loader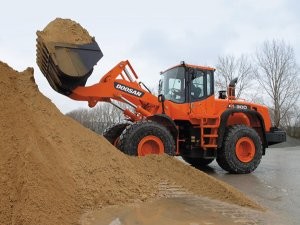 Powered by a turbocharged 217 horsepower Doosan diesel engine, the Doosan DL300 wheel loader provides the low-end performance and strong torque rise required to dig and carry heavy loads. At the same time, an electronically controlled, high-pressure common-rail direct fuel injection system helps keep emissions — and fuel consumption — low.

Standard limited slip differentials on both the front and rear axles allow the DL300 to tackle the toughest terrain, delivering powerful pushing force and providing superior penetration into the hardest materials.

With available buckets ranging from 3.5 to 4.6 cubic yards, the DL300 can take on a wide range of material handling tasks, from loading and transporting aggregates such as rock, sand and gravel, to industrial and agricultural applications like demolition, recycling, composting and handling of coal, salt, grain and fertilizer.

A robust Z-bar lifting system provides a standard bucket breakout force of 36,419 pounds, among the highest in its size class. This results in greater productivity when working in hard materials. Depending on the application, the operator can choose between two working modes (Standard or Economy) to maximize production or minimize fuel consumption.

Like all Doosan wheel loaders, the DL300 features a full powershift transmission with manual and automatic modes for smooth, comfortable shifting and outstanding traction in every working condition. Four forward speed ranges provide maximum speeds of 4, 7.6, 14.2, and 21.4 mph; while three reverse speed ranges offer maximum speeds of 3.9, 7.2 and 13.7 mph.

The DL300 has a static tipping load of 29,392 pounds at maximum reach with a straight frame and 24,143 pounds at the maximum steering angle of 40 degrees. Dump height with the standard bucket is 9 feet 6 inches and dump reach is 3 feet 10 inches. Height at the bucket pivot point is 13 feet 1 inch.

Hydraulically controlled, multi-plate wet disc brakes and dual brake circuits provide positive braking power. The brake system is also self-adjusting for maximum life. A spring-applied/hydraulically released (SAHR) parking brake is mounted on the transmission shaft to prevent the loader from rolling after engine shutdown. An optional electric-powered emergency steering system backs up the hydraulic power steering system in case of a malfunction and a safety device prevents starting the engine when not in neutral.

A quiet, spacious cabin with outstanding all-around visibility and a powerful heating and air conditioning system help improve operator productivity and lessen fatigue. Options designed to improve operator comfort include an air suspension seat and anti-pitch control for smoother travel with a loaded bucket. Also available as an option is a single lever control for travel functions and front-mounted attachments.

To reduce fuel consumption and lower noise levels, the DL300 features a hydraulically driven, variable speed cooling fan with an electronic thermostat that constantly monitors engine coolant and transmission oil temperatures. The fan direction can be reversed from the operator's cabin to quickly clean out the radiator in dusty environments, and the fan itself swings out to easily clean the entire cooler group.

All routine maintenance on the DL300 can be performed from ground level. Centralized hydraulic check ports and easily accessible drain valves for engine oil and coolant simplify routine maintenance. Remote greasing lubrication points allow the lift arm pins to be lubed from the outside of the machine. The transmission oil filler pipe is located near the articulation joint for easy access and sight gauges for hydraulic oil and coolant levels allow easy daily checks while reducing the risk of contaminants entering the systems.