Merlo Panoramic 120.10HM attracting lots of attention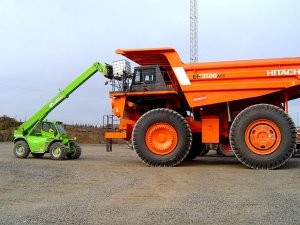 Merlo's new Panoramic 120.10 HM, with its 12,000 kg (26,455 lb) lift capacity and its 9.8 m (32 feet) of lift height, is drawing the attention of people working in many industries: hydroelectricity, wind energy, mines and heavy industries. They see its potential for yard handling and equipment maintenance.

Replacing the Merlo Panoramic 101.10, the new model brings higher lifting capacity and longer reach, facilitating handling and increasing productivity. Its impressive lifting capacity, besides saving many trips, reduces the time needed for each task, like transporting or unloading of raw materials. The 5.7m (19-foot) reach makes it possible to work in areas that were previously inaccessible.

The unique Merlo Ring of Steel – a steel belt which is a major component of the anti-torsion chassis – maximizes weight distribution, which eliminates the need for a counterweight. Merlo has also eliminated the bounce effect when driving, minimizing material waste and increasing safety on the jobsite.

Merlo's renowned Side Shift
The nearly one meter of bilateral side shift on the boom keeps the load level making it possible for the operator to position loads and materials as close as possible to one another. This avoids repositioning movements, which saves time and increases productivity.

The Panoramic 120.10 HM is powered by a fuel efficient, 145-hp IVECO turbo engine.

It has the largest cab on the market, Class 1 hydrostatic transmission, a speed of 40km/h, true 360° visibility, and compatibility with 90 Merlo attachments.