Wireless scale for trucks and tractor trailers with air-ride or mechanical suspensions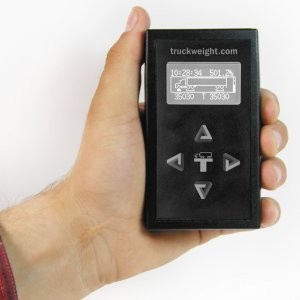 TruckWeight's next-generation Smart Scale system is now available for trucks and tractor-trailer combinations with air-ride or mechanical suspensions. The Smart Scale system features a wireless handheld receiver to allow drivers to maximize payloads, and avoid overweight tickets, in field loading applications such as demolition, aggregate hauling, logging and bulk hauling.
Key upgrades from the first-generation Smart Scale system include a new backlit handheld receiver and expanded memory capacity. The new backlit handheld receiver features a display that's easy to read in all lighting conditions. The added memory capacity allows the unit to store configuration data for up to 2,000 different trailers, an important feature for drop-and-hook operations. Also, battery replacement has been simplified with the addition of a large, glove-friendly, twist-cap access cover, eliminating the need for tools and small hardware in less accessible under-frame locations.
By providing a signal range of up to 500 feet (155 metres), the Smart Scale system allows a driver to monitor loading from the cab, loading station, or at a safe distance away from the truck. The wireless technology also eliminates the need to install and maintain the additional wiring and trailer plugs required to connect sensors to the cab readout in typical hardwired systems.
The system's Smart Sensors, available for both air-ride and mechanical suspensions, can be installed without any special tools or skills. Using two common AA batteries in each sensor, typical battery life is 8 to 12 months in normal use.
Company info