Towable drill for one-man hole digging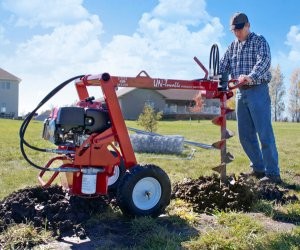 Little Beaver's new HYD-NTV11H UN-Towable Drill offers an easily transportable solution for one-man hole digging projects. Incorporating heavy-duty construction and high quality features, the unit offers a more economical option, without sacrificing the power, efficiency, and reliability of similar towable units. Safe and productive for any drilling application, the unit is ideal for numerous industries including landscaping, fence and sign installation, and park and recreation departments. The NTV11H drill is easy to transport and maintain, making it an ideal addition to any rental center's fleet.

Unlike similar units that only offer a 9-horsepower engine, the NTV11H is built with an 11-horsepower Honda GX340V engine, resulting in a 10 percent increased power advantage over competitive models. Hydraulic pressure of 2,500-psi and an operating speed of 150 RPM further enhance power output.

Equipped with 16-inch semi-pneumatic tires, the NTV11H easily moves across jobsites and pivots into digging position without causing damage to delicate lawns and turf. Because it's easy to maneuver, the drill can operate in places that are inaccessible to skid steers and tractors. And for added convenience, the attached one-man handle enables drilling near buildings and in other difficult-to-access areas.