Improved 23000 OTR tire service crane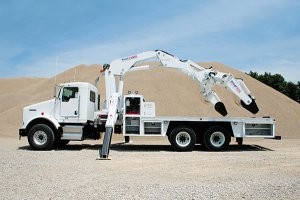 Stellar Industries has developed an all-new Stellar model 23000 OTR tire service crane and the TM12154 tire manipulator. Its design was based on the proven model 28000 crane to provide maximum lifting performance and solid stability, while servicing a versatile selection of equipment in the large quarry operations, small mining facilities and other off the road tire service markets.
The model 23000 crane has a 230,000 foot-pound capacity and can lift 23,000-pounds at 10 feet and 14,000-pound capacity at 16 feet 5 inches from the centreline of the crane. It offers 315 degrees of rotation while using a turntable bearing with a high torque planetary gear reduction system that offers smooth, powerful performance with ease of serviceability. It features a hexagonal boom design that adds strength and durability and a radio remote control system that offers precise, smooth, multi-function operation as a standard feature. The 23000 also features a hydraulic A-frame style out-and-down stabilizing system that allows for a large working area.
The enhanced TM12154 tire manipulator is an option for the model 23000 crane. The TM12154 can manipulate tires from 48 inches up to 154 inches in diameter and up to 12,000-pounds. It features over 315 degrees of body rotation, and either 90-degree or continuous rotation clamping pads. The tire manipulator articulation spans from +81 degrees to -20 degrees.
A complete package is available. It includes the crane, tire manipulator, and a 20-foot long steel service body complete with eight D-ring tie downs, stainless steel rotary slam latches, recessed skirt-mounted halogen floodlights, and an underbody protective coating. It also comes with a SHD-245 American Eagle air compressor. The SHD-245 is an industrial truck mounted 4-cylinder, 2-stage compressor powered by a hydraulic motor and outputs 110 CFM at 175 PSI.