All-in-one flameless pothole patcher reduces waste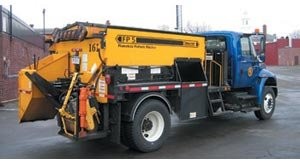 The all-in-one FP5 Flameless Pothole Patcher drastically reduces material waste with its insulated 5.1-cubic-yard, electric-heated hopper that keeps asphalt at a constant temperature and pliable for an extended period of time. The truck-mounted unit's electric-heat system uses an onboard hydraulic-powered AC generator to warm the full-length, electric-heating elements. The system can be plugged into an external power source to keep material at the proper temperature overnight or over a weekend – reducing material waste and providing flexibility when filling the unit.

An optional swing auger system delivers asphalt material in a wide 8.7-foot swing that ranges from the driver-side wheel track past the passenger-side wheel track – making it an ideal tool for easy and efficient repair of shoulder, curb and gutter deterioration.

Potholes repaired using the all-in-one pothole patcher have an increased life over the "throw and roll" method. The damaged area is removed and squared off using the pavement breaker. The air-and-tack wand blows out any remaining debris and applies the tack coating, which helps bind the new asphalt to the existing pavement. The material chute delivers the fresh hot asphalt to the prepared area and the compactor then consolidates the material evenly with the existing pavement.