The Hauf frameless, aluminum dump trailer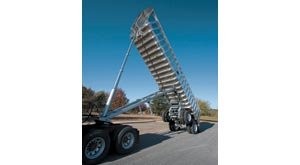 STECO's new frameless aluminum version of The Hauf dump trailer is ideal for sand and gravel operations. It is available in 24- to 40-foot lengths and can be customized. Customization options include: varying widths and lengths; external or internal cylinder mount; top-hinged tailgate, high-lift, or barn door; and a variety of suspensions, wheel, and tire choices.

A modernization of one of the most rugged, dependable, and popular dump trailer designs ever manufactured, it was once known by its nickname of The Bathtub. Today's version from STECO uses the same continuous weld of the U-formed side posts, the same smooth bed with easy-to-clean corners, and the same top-hinged tailgate with remote air-controlled open and lock. But it has been modernized and improved with up-to-date running gear and more.
Any given day, one can usually find an original bathtub-style dump trailer produced 20 to 30 years ago still rolling down the highway and going strong. It's this kind of long life, foolproof design, and rugged dependability that STECO says they are committed to bringing back to the trailer industry.