Allied Mechanical Pulverizer (AMP) for controlled demolition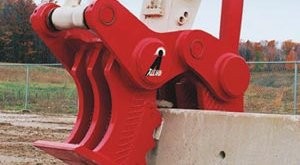 Allied Construction Products has introduced the Allied Mechanical Pulverizer (AMP) designed for controlled demolition of concrete slabs, walls, foundations and bridge decks. Pulverizing concrete in a mobile situation is a current technique to separate reinforced concrete from the rebar.
The AMP has no hydraulic system of its own. It takes advantage of the full-force of the bucket cylinder on the excavator which is more economical than a built-in cylinder.

The AMP Series mechanical pulverizers feature: pin-on jaw design that permits easy transfer between excavators; no additional hydraulics required saves installation expenses; made of high strength, abrasion-resistant steel for long-life; and fitted with replaceable, wear-resistant steel teeth for economical maintenance.

The AMP pins on in place of the excavator's bucket. The bucket cylinder is used to power the upper jaw, while the lower is held stationary by the stiff arm and mounting pad. The lower jaw is adjustable to optimize gripping power and working orientation. The position for the lower jaw depends on the size of the material being crushed and whether the material is on the ground or part of a structure.
The AMP mechanical pulverizer is available in three sizes (AMP 50, AMP 70 and AMP 90). They are intended for use on excavators weighing from 44,000 to 110,000 pounds.

The model numbers represent the median weight of the excavators (50,000, 70,000 or 90,000) that the AMP is designed to fit. The excavator must have adequate lift capacity to properly and safely operate the AMP.
The AMP features a unique pin-on jaw design that permits easy transfer from one excavator to another (in the appropriate weight class). The excavator does not need an extra hydraulic function which saves extra installation expenses. Mounting kits for the AMP are interchangeable with Allied's Contractor's Mechanical Grapple demolition and material/waste handling systems.
Engineered for exceptional fragmentation, the AMP is an ideal demolition tool for separating and cleaning rebar from concrete.