New line of attachments works for multiple functions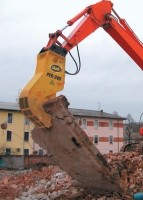 DII Attachments has introduced Geith Precision, a new line of attachments for the demolition, scrap and recycling industries. Geith Precision attachments are designed to function in primary, secondary, sorting, handling and recycling stages, and include an initial offering of multiprocessors, rotating and fixed pulverizers, rotating steel shears, mechanical crushers and mechanical grapples.

The Geith Precision multiprocessor is available in nine different models to fit excavator weights from 3.5 metric tons up to 70 metric tons (7,700 to 154,300 pounds). The multiprocessor is available with five different jaw types, including concrete jaws for cutting concrete, steel shear jaws for processing metal, pulverizing jaws for crushing concrete and cutting rebar, combination jaws for processing concrete and metal, and tank jaws for cutting steel plate. The variety of interchangeable jaw types allows customers to utilize just one attachment for many different applications.

For pulverizing applications, dedicated Geith Precision rotating and fixed pulverizers (shown here) provide powerful crushing forces. The rotating pulverizer is available in five different models for excavators from 12 to 38 metric tons (26,400 to 220,400 pounds), and the fixed pulverizer is available in two models for excavators from 20 to 35 metric tons (44,100 to 77,200 pounds). Both pulverizers also feature replaceable rebar cutting blades. Additional attachments in the Geith Precision line will be launched during 2008, including handling grapples, scrap grapples, rotary screening buckets, grilled screening buckets, and rotary cutters.