Compact rammer well-balanced, smooth running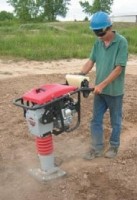 The middleweight Stomper model XH730 combines optimum impact with an easy-to-manage weight for a well-balanced, smooth running, great all-purpose rammer.

Equipped with a four-cycle, three-hp Honda engine designed specifically for rammer applications, the XH730 has an impact force of 3,100 pounds. Operators can choose either a float carburetor or the diaphragm configuration. Weighing in at only 144 pounds and using such precision components as a two-stage air filtration system, forged pistons and solid snubbers, these Stompers are built to last. The Stompers can be laid down in any direction for easy transport in truck beds or trailers. The XH730 is one of three models of 4-cycle rammers that Stone offers.